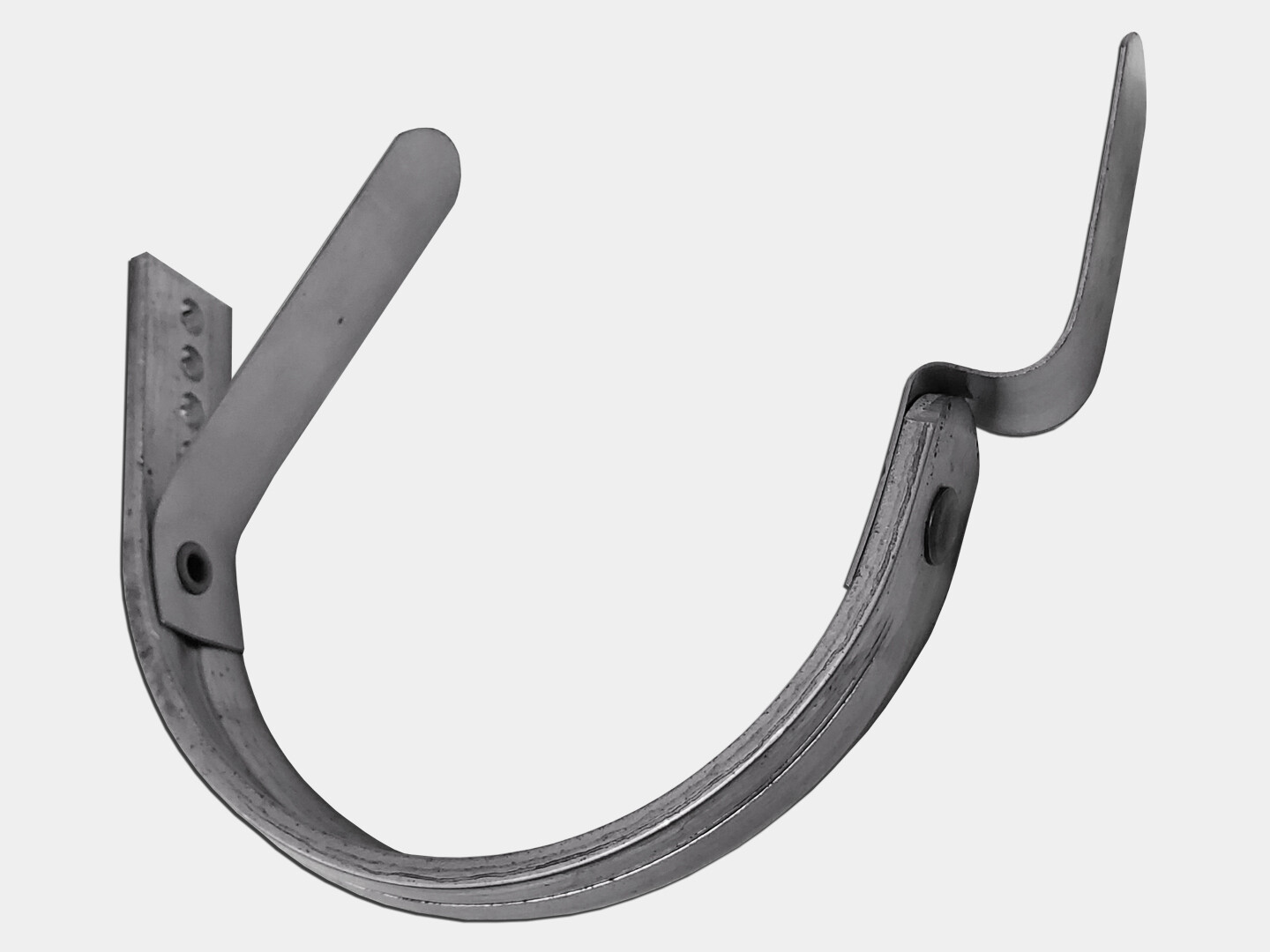 #15 Fascia Mount Half Round Gutter Stainless Steel Bar Hanger
HH050-51
Product Details
1/8" bar hanger for half round gutter
The #15 Hanger is our strongest hanger available for half round gutter
This undermount hanger is formed with 1/8" thick bar with a stiffing wedge. Fold-over tabs are used to secure the hanger to a half-round steel, galvalume or aluminum gutter. Say goodbye to reattaching lost and missing spring clips! Mounts directly to a plum fascia board or rafter tail. Use our Universal Roof Mount for a right angle fascia board or to install gutter over a crown molding. For angled fascias, use our heavy duty gutter wedge and for exposed rafters, our universal rafter mount.
Standard Spacing 24" to 36" on center, depending on application / expected snow loads.

Why are these on sale?
These are in perfect condition
, however, stainless steel is very hard on tooling, causing it to break often. So we decided to steer away from stainless bar stock for this hanger.
Final Sale!
Works with Reverse Bead and Traditional Bead Gutters
Specifications
Heavy Duty 1/8" x 1" stainless steel bar stamped hanger
Available for 5", 6", 7", 7.6" (Euro) and 8" Half-Round Gutters
Fold over tabs hold gutter securely in place
Powder Coating Disclosure
Our colored hangers are powder coated, which provides a very durable, long lasting finish. Every batch is tested and a significant percentage of the tabs are hand bent prior to leaving our facility to ensure high quality and no chipping when bent in the field. However, on rare occasions (as per our customer's feedback) there has been some chipping of the paint at the point where the metal tab is bent around the gutter. Although this does not affect the performance of the hanger, K&M does offer for purchase a touch up spray paint to remediate this issue. We recommend that a can be added to your order.
Submittals & Downloads
Color and Material Options

0.027" Aluminum Material Colors to Match

The most popular gutter hanger colors to match 0.027" aluminum material are Dark Bronze and Low Gloss White
Click here for a full list of 0.027" aluminum colors

Atas Standard

0.032" Kynar® Aluminum and 24 Gauge Galvanized Steel Material Powder Coated Color Options to Match

The most popular gutter hanger colors are Bone White and Classic Bronze (Dark Bronze)
Click here for a full list of Kynar® metal colors

Common Material Options for Gutter Hangers

Aluminum is the most popular metal for aluminum / steel gutter hangers.

Other colors, materials and thickness may be available upon request. Colors displayed for reference only.
Please click here for a full selection of colors and materials offered.
Save this product for later