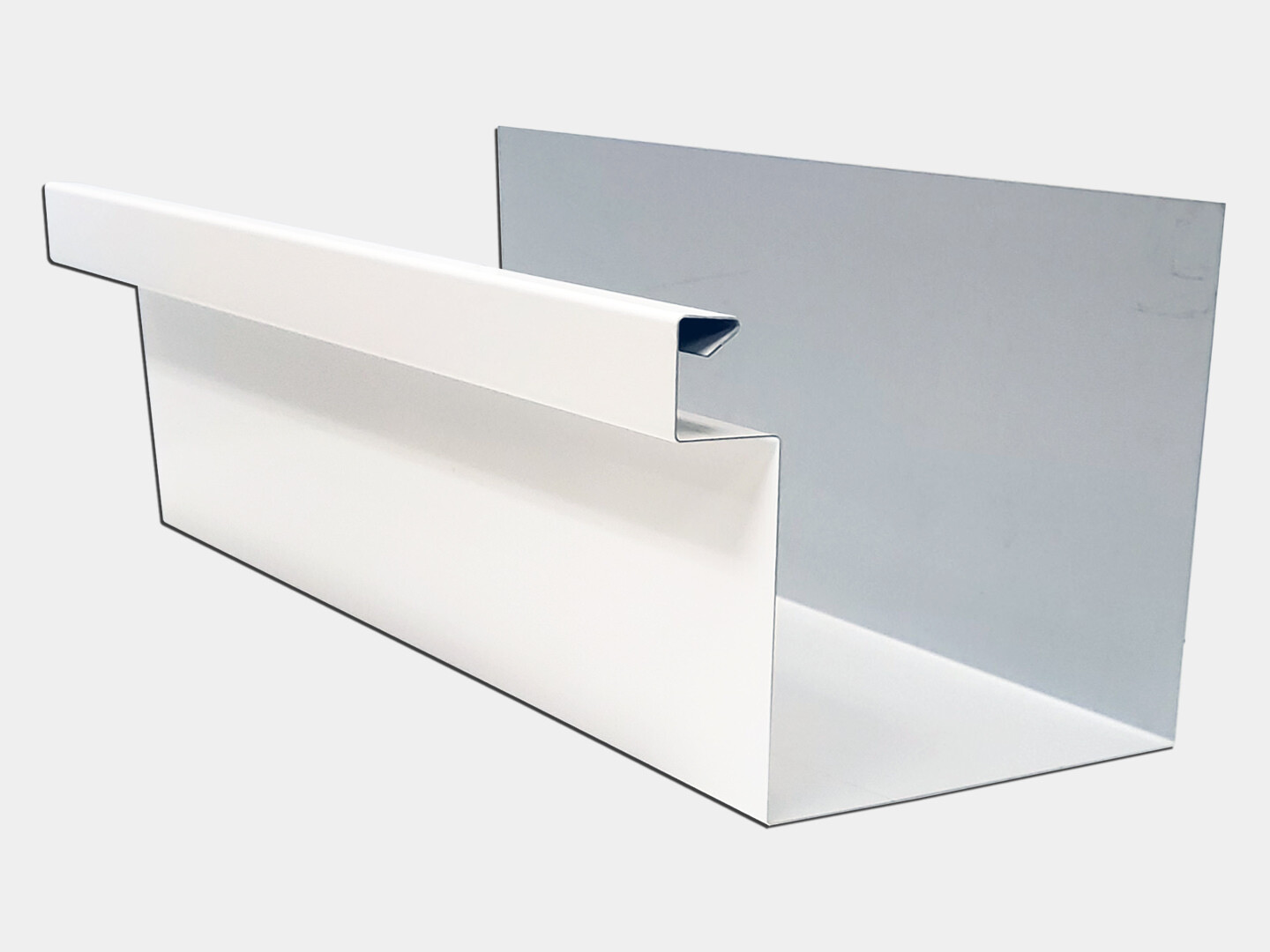 0.027" Aluminum Commercial Box Gutter
SKU BOXA500
Product Details
Shipping:
This Item Requires a Skid and Freight Shipping.
Freight Delivery:
Customer is responsible for unloading materials from the truck. *Residential delivery may be limited. Please Call before placing and order if your delivery address is difficult for a Semi-Truck to get to.
Aluminum Commercial Box Gutter
Style A - Available in several colors. 0.027" Aluminum.
Box Gutters are commonly used in large industrial & commercial applications, but the smaller 5" and 6" profile can also commonly be found in more modern homes. The advantage of box gutters, is due to their shape, which allows for a much larger water carrying capacity.
Box Gutters are bent in a brake, and therefore are offered in 10' lengths. For this reason, these gutters can also be customized, with added roof flanges, for example.
Our profiles are made to fit the K-Style and Box gutter hangers we sell and will work with most K hangers. Please refer to the submittal to ensure this will work with your favorite hanger.
K&M also supplies gutter guards / screens for all gutter profiles we offer along with all accessories needed for your gutter system.
Custom lengths, sizes and heavier gauges may be available. Please contact us for pricing.
Joining gutter lengths / seams
To put 2 lengths of gutter together, simply cut back the front bead / lip of the gutter 1" or more depending on your needs. Do the same for the hem in the back if present. Cut where needed to create tabs. Overlap the 2 lengths of the gutter and join them by soldering if possible, or with zip screws / rivets and sealer if not.
Coupling pieces can be custom manufactured if needed. Keep in mind that using a coupling piece like a cover plate gives the appearance of 2 seams. Splice plates can also be manufactured. Unlike cover plates, these sit on the inside of the gutter, giving the appearance of one seam, like overlapping 2 gutter lengths.
Benefits of aluminum gutters
Cost effective
Ease to work with
Specifications
Size: 5" and 6"
Length: 10'
Material Thickness: 0.027" Aluminum
Submittals & Downloads
Color and Material Options

0.027" Aluminum Box Gutter Color Options

The most popular gutter colors in 0.027" aluminum are Dark Bronze and Low Gloss White
Click here for a full list of 0.027" aluminum colors

Other colors, materials and thickness may be available upon request. Colors displayed for reference only.
Please click here for a full selection of colors and materials offered.
Save this product for later