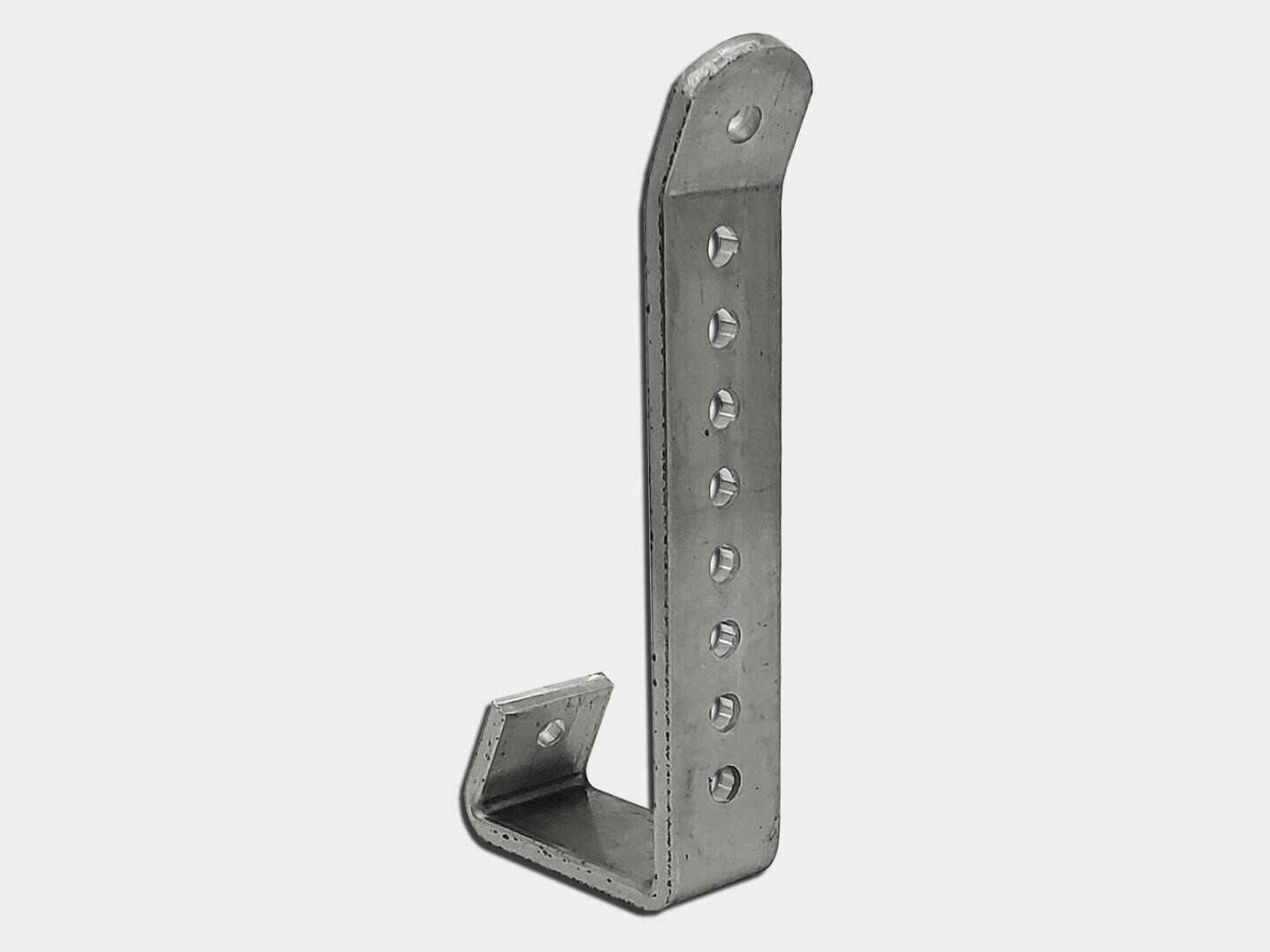 Heavy Duty Aluminum Gutter Wedge for Angled Fascia
SKU GWAL01
Product Details
Aluminum Bar Gutter Wedge for Gutter Hanger - Available in colors
For Hangers used with Half-Round Gutters, Box and K-Style Gutters
K&M's Gutter Wedge is manufactured form 3/16" aluminum bar stock. The dimensions and angles change along with the roof pitch in order to hang a gutter correctly.
A mounting hole is provided at the very top of the wedge and a optional hole is also provided at the back from sizes of pitch 3 and up.
This gutter wedge will work with most gutter hangers than can accept a 1/4" bolt for attachment through the back. It works with our #15 half round gutter hanger and our aluminum cross bar hanger.
Used on Aluminum gutters, steel gutters and galvalume gutters. Powder coated to match.
It is important to note that all dimensions and angles assume that the fascia board is perpendicular to the roof line, meaning it measures 90° off the roof. This should always be the case when the fascia is angled, however, it may not be, so please double checking before ordering.
When a hidden hanger is used (as the crossbar hanger in the examples shown), a hole will need to be drilled in the back of the gutter to mount the wedge with the provided bolt.
Measuring the pitch
The pitch or the angle of a roof is calculated by how many inches it rises vertically for every 12 inches it extends horizontally. For example, a roof that rises 6 inches for every 12 inches of horizontal run is called a 6 pitch or a 6-12 pitch.
If drawn on a piece of paper, this triangle would have a 26.57° angle off the horizontal line (the wall line). A different example is a 12-12 pitch, where the rise is 12" over a 12" span, creating a 45° angle. A flat roof would have a 0 pitch.
Specifications
3/16" Material
Heavy Duty
Available for any size Gutter
Available in Copper and Aluminum
Powder Coating Disclosure
Our colored roof mount bars are powder coated, which provides a very durable, long lasting finish. Because they are manufactured from thick bar stock, there is significant paint stretching in post powder coating bending, which will lead to some paint cracking / chipping.
To avoid any issues, we recommend that the roof bars be purchased pre bent to the correct roof pitch, and if not, that a can of touch up spray paint be added to your order.
Submittals & Downloads
Color and Material Options

0.027" Aluminum Material Colors to Match

The most popular gutter hanger colors to match 0.027" aluminum material are Dark Bronze and Low Gloss White
Click here for a full list of 0.027" aluminum colors

Kynar Aluminum and Steel Material Colors to Match

The most popular gutter hanger colors to match Kynar aluminum and steel material are Bone White and Dark Bronze
Click here for a full list of Kynar® metal colors

Common Material Options for Gutter Hangers

Aluminum is the most popular metal for aluminum / steel gutter hangers.

Other colors, materials and thickness may be available upon request.
Please click here for a full selection of colors and materials offered.
Save this product for later