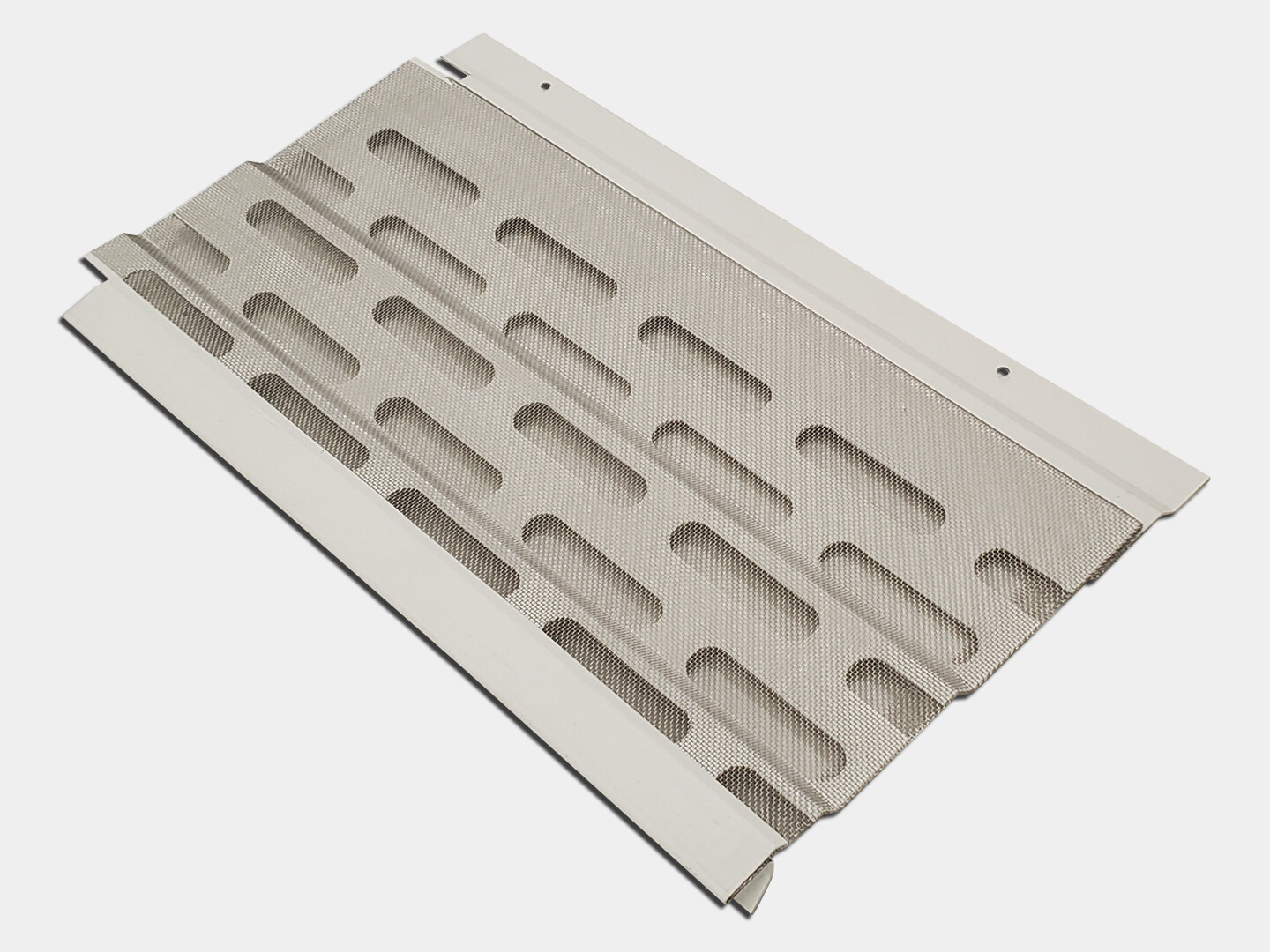 KM Under Roof 0.032" Kynar Aluminum Gutter Screen
SKU US0520
Product Details
Under Roof K&M 0.032" Kynar® Aluminum Gutter Guards - Available in colors
Gutter Screen made to fit K-Style Gutter, Box Gutters or Half-Round Gutters
K&M's Leaf Gutter Screen combines the strength of a solid gutter helmet® / hood with the ability to capture water in a heavy rain using our offset laser cut hole design and Stainless Steel Micro Mesh wire screen skin. The perfect solution to keep leaves out of a gutter!
This version of the gutter screen is made exactly the same as our traditional gutter screen, with the exception of the back, where a bend used to fasten the product to a fascia board is not present. This allows for this flat gutter screen to be installed directly under the roof at an angle, or to be bent by the installer (even by hand) to match the roof pitch.
We think our Gutter Screen is the best option available in the market, giving you one type of cover that will work with all kinds and sizes of gutters, offering multiple material options and the most important feature, minimal maintenance!
The profile changes slightly from the picture depending on your gutter choice to fit either K-Style, Box, or Half Round Gutters.
Need to mount your gutter screen to a fascia board instead? Try our Fascia Mount Gutter Guards!
Why is K&M's Gutter screen a better option?
The #1 reason why you would pick our gutter screen is because of its strength. Our gutter guards are backup by solid metal, making them much stronger and less susceptible to dents and sagging due to debris weight. Cheaper guards feature only a wobbly mesh.
Advantages of our Gutter Screen
Bendable by hand to match roof pitch
Strength of a solid gutter cover
Offset hole top pattern ensures water flow into the gutter heavy rains
Available for Reverse Bead or Euro Bead Half Round Gutters, K-Style Gutters and K&M's Box Gutters
Can be customized for custom profile gutters
Available in any of our standard materials and common colors to blend in with our gutters or others
Stainless Steel micro screen mesh keeps leaves and small debris out of your gutter while letting water through
Sold in 5' lengths allowing for a faster installation / less expensive shipping
Available in 5", 6", 7", 7.6", 8" and 10"
Stainless Steel Mesh Specifications
Nominal Size: 26x26
Wire Diameter: ~0.0075" / ~0.19mm
Opening Size: ~0.031" / ~0.79mm
Open Area Percentage: ~64%
Installation
The front portion may be secured to the front bead of the gutter via rivets or screws. The back part will sit on the roof, under the roof shingles, slates or tiles and may be bent to match he roof pitch if necessary.
Normally, this is an extremely easy installation with minimal work required, however, in some installations, for some gutters, some on site tweaking may be necessary. Please keep this in mind.
Attaching lengths is much like doing the same with gutters, by overlapping and securing them if needed. You can also just butt the seams. Same goes for miters, cut as needed, overlap and attach.
Free sample
We offer a free 1' sample in aluminum. Pick up at our location, or have it shipped (shipping not included).
Submittals & Downloads
Color and Material Options

Pac Clad Standard

0.032" Kynar® Aluminum and 24 Gauge Galvanized Steel Gutter Screen Color Options

The most popular gutter screen colors in Galvanized Steel and Aluminum Kynar® are Bone White and Dark Bronze
Click here for a full list of Kynar® metal colors

Atas Standard

0.032" Kynar® Aluminum and 24 Gauge Galvalume Steel Common Chimney Caps Color Options

The most popular roof flashing metal colors in Galvalume Steel and Aluminum Kynar® are Bone White and Classic Bronze (Dark Bronze)
Click here for a full list of Kynar® metal colors

Other colors, materials and thickness may be available upon request. Colors displayed for reference only.
Please click here for a full selection of colors and materials offered.
Save this product for later