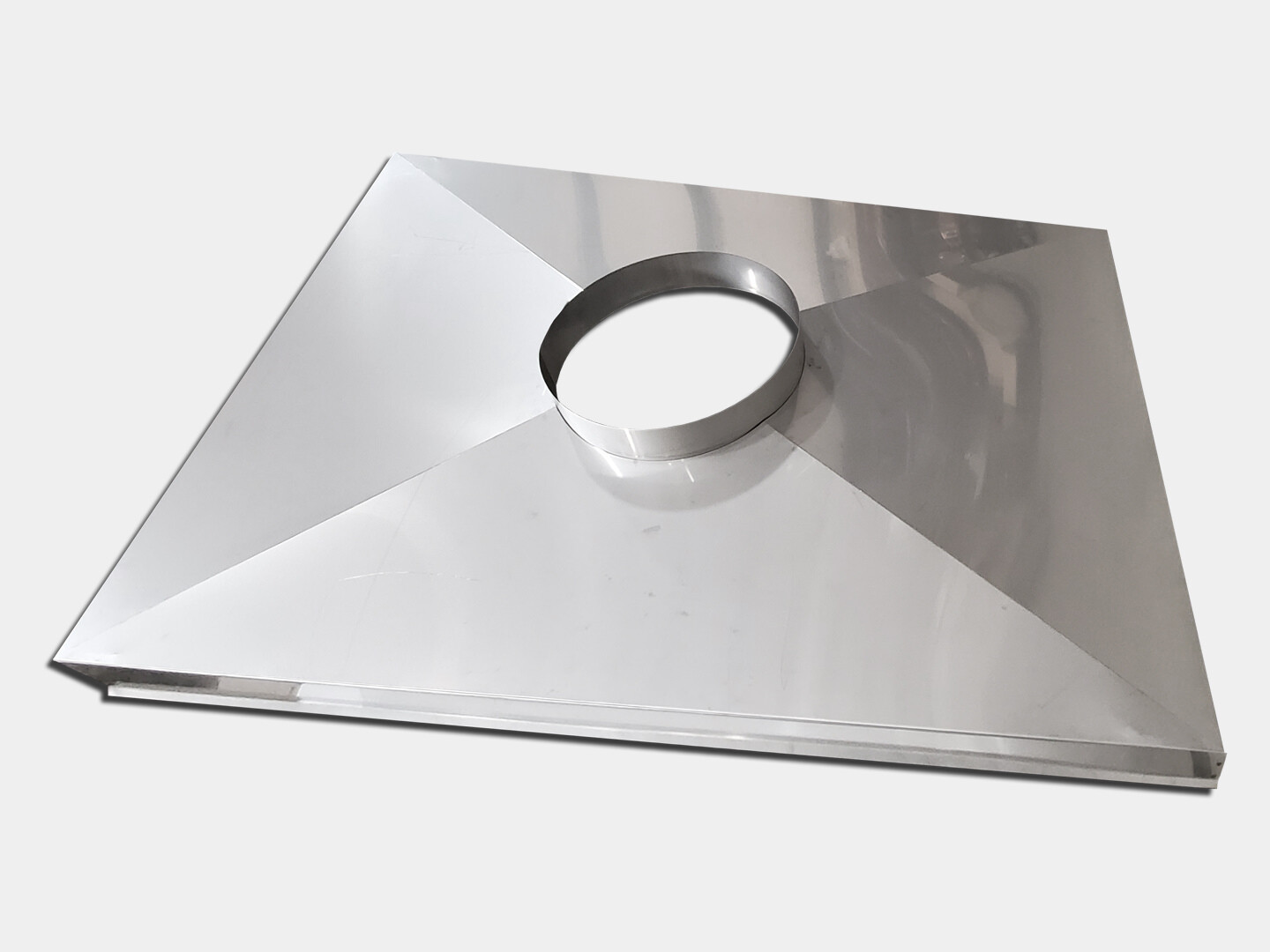 Chimney Chase Cover
SKU CC200
Product Details
Chimney Pad / Chimney Chase Cover
Available in Copper, Lead Coated Copper, Freedom Gray, Stainless Steel, Aluminum and Steel
This economical chimney cap is the obvious choice to protect a chimney on a budget. It normally features 3.5" tall sides, with an x-bend to add rigidity. This product is cut by laser to ensure a perfect fitting.
Custom designs, sizes and different materials may be available. Please contact us for pricing. Made in the USA.
Materials
Copper - 16 oz. and 20 oz.
Freedom Gray® - 16 oz. and 20 oz.
Galvalume - 24 Gauge
Kynar® Aluminum - 0.032"
Kynar® Steel - 24 Gauge
Lead Coated Copper - 16 oz. and 20 oz.
Stainless Steel - 2B 304 24 gauge
Specifications
Base height: 3.5" with kick
Collar height: 3" Standard
Ordering Instructions

A - Please pick the approximate width and length (fields 2 and 3). These fields are used to calculate the price of your chimney cap.
B - If placing an order for a chimney cap out of square, make sure to upload a top view sketch with dimensions for fabrication.
C - If a cap requires 2 sheets for fabrication, these will be put together with a pipe lock seam. There is no way around this.
D - It is our recommendation that copper, lead coated copper, freedom gray and stainless steel caps be soldered.
E - For all chase covers containing flues and all that are out of square, a sketch is required displaying all dimensions and flue locations where necessary. Flue holes may be square, rectangular or round. Contact us if you require a different shape.
As a standard, we will add 1/4" to the dimension of the diameter of the hole provided. For example, a 12" diameter flue hole will become 12.25". You may send us a message during the checkout process if you prefer that this is not done.
Please, make sure to add up all dimensions to make sure they are correct before submitting a sketch.
F - Although installation is considered simple and straight forward, we recommend that it be done by a professional.

Example of acceptable flue location and size sketch (hand sketches are fine)
Submittals & Downloads
Color and Material Options

0.032" Kynar® Aluminum and 24 Gauge Galvanized Steel Common Chimney Caps Color Options

The most popular chimney cap colors in Galvanized Steel and Aluminum Kynar® are Bone White and Dark Bronze
Click here for a full list of Kynar® metal colors

Common Material Options for Chimney Caps

Copper is the most popular metal for chimney tops. It is offered in 16 oz. and 20 oz.
Freedom Gray (zinc / tin coated copper) is offered in 16 oz. and 20 oz.
Galvalume Plus is offered in 24 gauge.
Lead Coated Copper is offered in 16 oz. and 20 oz.
Stainless steel is offered in 24 gauge 304 2B.
Zinc is offered in 0.7 mm and 0.8 mm with a raw finish.
Save this product for later