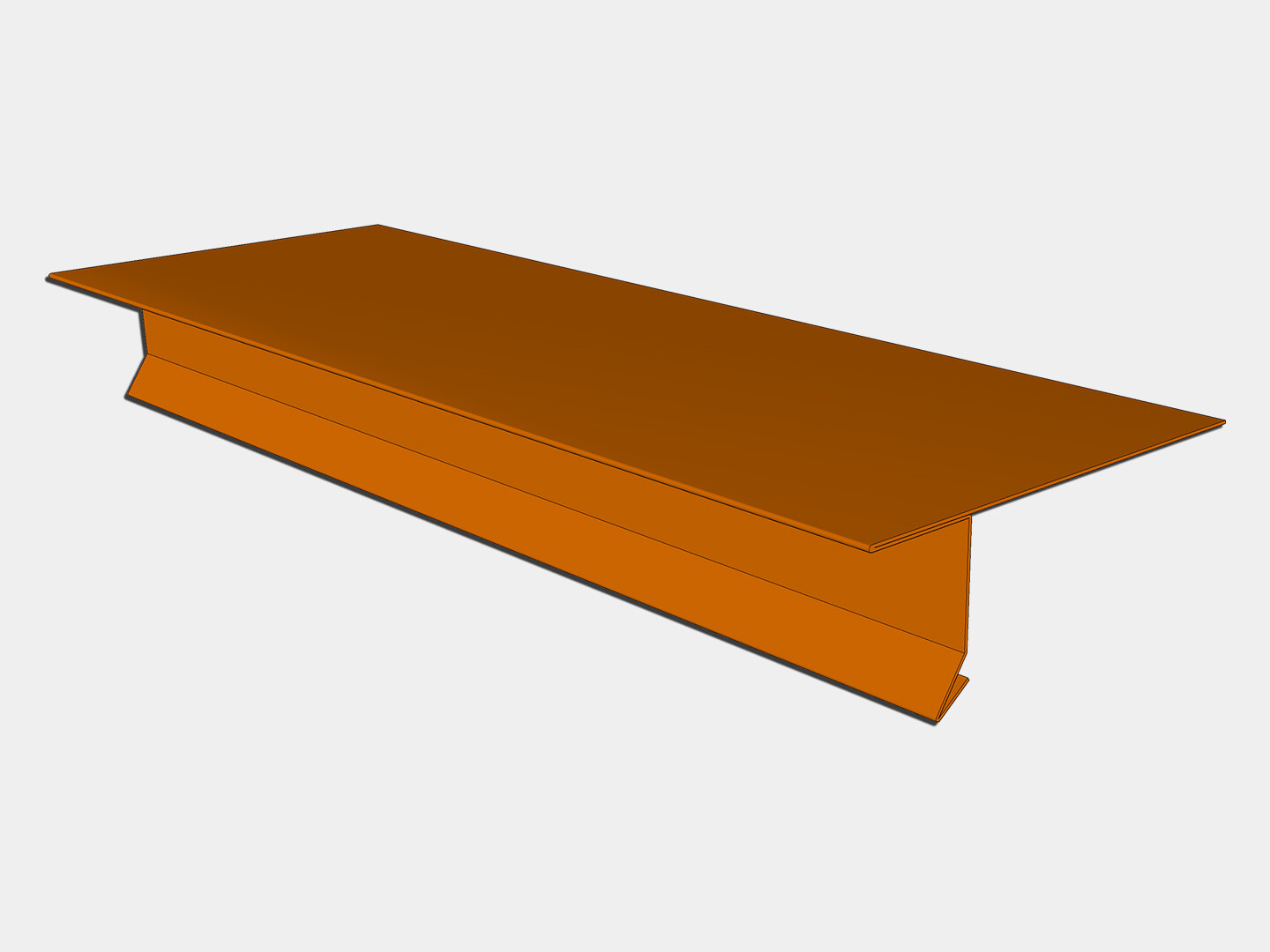 Copper T-Style Locking Drip Edge with Kick
SKU RE0665
Product Details
Shipping:
This Item Requires a Skid and Freight Shipping.
Freight Delivery:
Customer is responsible for unloading materials from the truck. *Residential delivery may be limited. Please Call before placing and order if your delivery address is difficult for a Semi-Truck to get to.
T Shape Roof Locking Drip Edge Flashing Metal - 10' Length
Edge metal used on rubber, tile, slate, shingle and metal roofs. Available in 16 oz. and 20 oz. Copper.
This simple drip edge profile, also known as "t-style" is used on any type roofing, but is a requirement for metal roofs due to its overhang which is used to secure metal roof panels.
This style of drip edge is a preferred choice for many roofers because the overhang helps with directing water away from the vertical portion of the drip edge, minimizing the risk of the water going back against the fascia.
The name drip edge comes from the kick portion of this profile, at the very bottom, responsible for kicking the water away from the fascia board. That portion is essentially a drip edge.
Another common name for this drip edge profile is "metal roofing drip edge".
This may be ordered as an angled drip edge or flat. A flat drip edge will also work on an angled roof, except "B" will not sit up against the fascia, it will be perpendicular to the roof. Although this may not be ideal, if this is being placed on both a rake edge along with a gable it will make both pieces line up as far as height goes. Otherwise, if the rake edge metal is manufactured at an angle, it will need to have a taller "B" dimension to line up with the gable drip edge.
You may order custom profiles through this page, browse our store for other profiles or send us an email for a quote on something even more intricate.
Specifications
Material: 16 oz. and 20 oz. Copper
10' Lengths
Made to Order
Made in the USA
| (H) Nominal Size | Material | (A) Roof | (B) Face | (C) Kick | (D) Hem | (E) Overhang | (F) | Stock (Total Material) |
| --- | --- | --- | --- | --- | --- | --- | --- | --- |
| 1.5" | Copper, Freedom Gray, Lead Coated Copper | 2.125" | 1" | 0.5" | 0.375" | 1" | 3.125" | 6" |
| 1.5" | Aluminum, Steel, Galvalume and Stainless Steel | 2.125" | 1" | 0.5" | 0.375" | 1" | 3.825" | 6" |
| 2" | Copper, Freedom Gray, Lead Coated Copper | 2.625" | 1.5" | 0.5" | 0.375" | 1" | 3.125" | 7.2" |
| 2" | Aluminum, Steel, Galvalume and Stainless Steel | 2.625" | 1.5" | 0.5" | 0.375" | 1" | 4.625" | 8" |
All dimensions are approximate with ~1/8" tolerance.
Ordering Instructions

1 - Pick your material. For other materials navigate back to Edge Metal.
2.0 - Pick your dimensions. These are provided in the chart below.
2.1 - Custom dimensions: Pick the appropriate selection for the amount of stock material needed.
Example: If adding all dimensions of your custom profile (B+C+D+E+F) equals 6.5", you'll pick the next dimension up, in this case 7.2" or 8" depending on the material.
3 - Hem. The hem is the folded portion after the kick. If you select "No hem", the material that is used for this portion would be added to the roof portion.
Example: A 1.5" profile in copper has a 0.375" hem, which would be added to the roof dimension (F). (F) would become 3.5" (3.125" +0.375").
4 - Roof pitch. Select 0 for no pitch / 90° standard angle / flat roof, or the appropriate / closest pitch. The roof pitch is determined by the rise over the run.
Example: If for every horizontal 12" your roof rises 6", you have a pitch 6.
5 - This is where you'll enter dimensions for fields B, C, D, E and F if a custom profile was selected on field 2, otherwise leave blank.
6 - If you prefer to email a sketch you can use this field, otherwise, leave blank.
Submittals & Downloads
Color and Material Options

Material Options for Roof Flashing Metal and Edge Metal

Copper is the most popular metal roofing and flashing metal. It is offered in 16 oz. and 20 oz.
Freedom Gray® (zinc / tin coated copper) is offered in 16 oz. and 20 oz.
Lead Coated Copper is offered in 16 oz. and 20 oz.
Stainless steel is offered in 24 gauge 304 2B.
Zinc is offered in 0.7 mm and 0.8 mm with a raw finish.

Other colors, materials and thickness may be available upon request. Colors displayed for reference only.
Please click here for a full selection of colors and materials offered.
Save this product for later