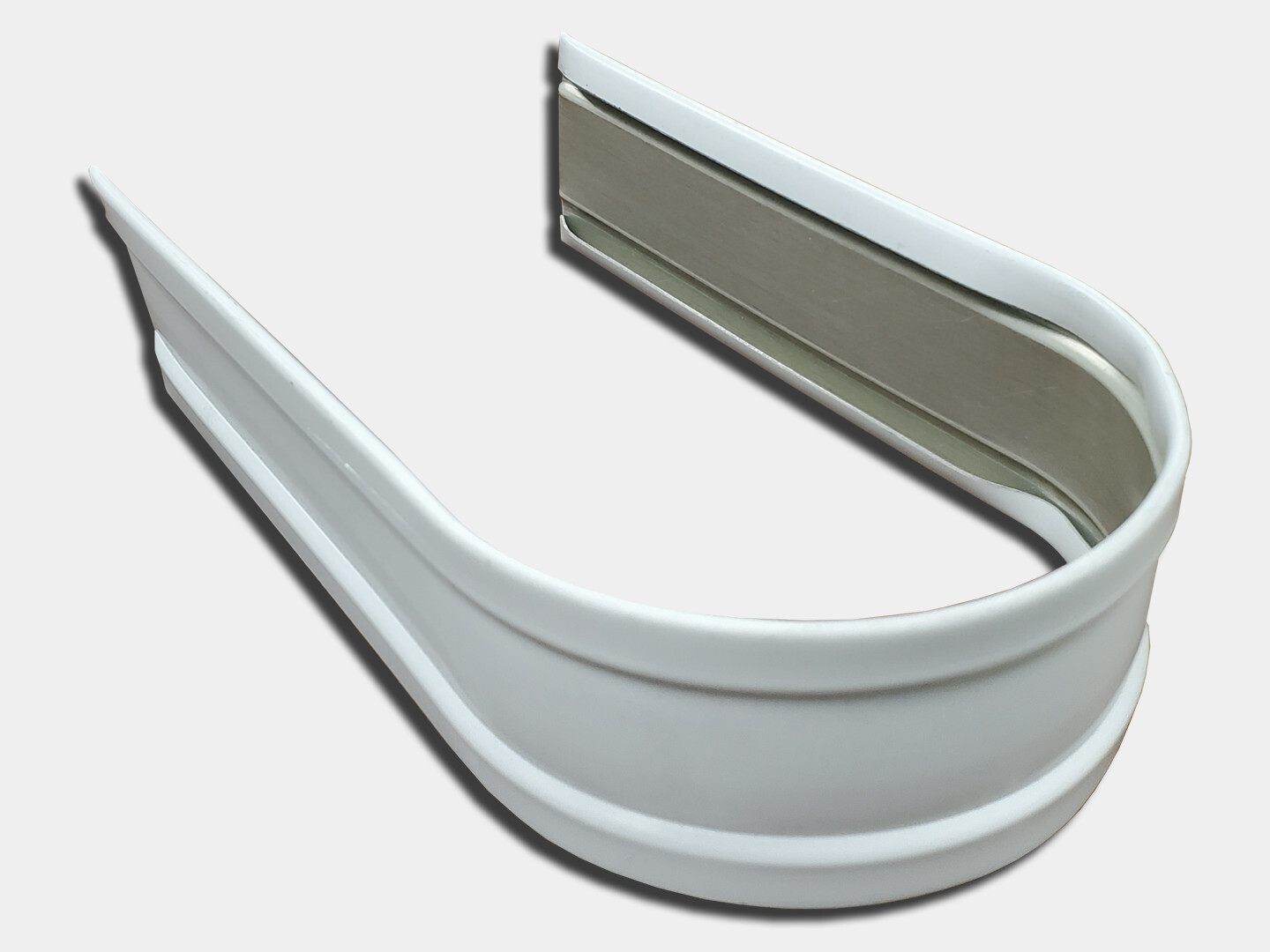 Round 0.027" Aluminum Downspout Strap
SKU ST03100
Product Details
Standard Round Corrugated / Plain Round Aluminum Downspout Strap
Available Several colors. 0.027" aluminum. Downspout wall attachment.
Downspout straps come flat or pre formed to fit one of our standard downspouts. The standard leg length is for a flush to 1" downspout offset from the wall (depending on how much is bent for the leg portion) however, if a longer length is needed please select the larger version.
The legs on these downspout straps do not come pre bent at the wall location to allow you to adjust the length depending on your installation.
At least two downspout straps are required for every 10 feet of downspout. Three are usually sufficient for a straight 20' foot run.
For a 10 foot run, place a strap approximately 1' from the bottom and another 1' from the top. For a 20' foot run, use the same adding a strap right at the seam between the 2 downspouts, which also hides the seam giving it the appearance of a continuous length.
Custom colors, sizes and materials are available as custom items. Please, contact us for a quote.
| Size | A | B | C | D | E | F / Stock Size |
| --- | --- | --- | --- | --- | --- | --- |
| 3" | 3.125" | 2.988" | 3.125" | 6.113" | 1.562" | 14" |
| 3" Large | 3.125" | 4.988 | 3.125 | 8.113" | 1.562" | 18" |
| 4" | 4.125" | 2.700" | 4.125" | 6.825" | 1.562" | 16" |
| 4" Large | 4.125" | 4.700" | 4.125" | 8.825" | 1.562" | 20" |
| 5" | 5.125" | 3.414" | 5.125" | 8.539" | 1.562" | 20" |
| 5" Large | 5.125" | 5.414" | 5.125" | 10.539" | 1.562" | 24" |
| 6" | 6.125" | 3.129" | 6.125' | 9.254" | 1.562" | 22" |
| 6" Large | 6.125" | 5.129" | 6.125" | 11.254" | 1.562" | 26" |
Submittals & Downloads
Color and Material Options

0.027" Aluminum Downspout Strap Color Options

The most popular downspout strap colors in 0.027" aluminum are Dark Bronze and Low Gloss White
Click here for a full list of 0.027" aluminum colors
Save this product for later