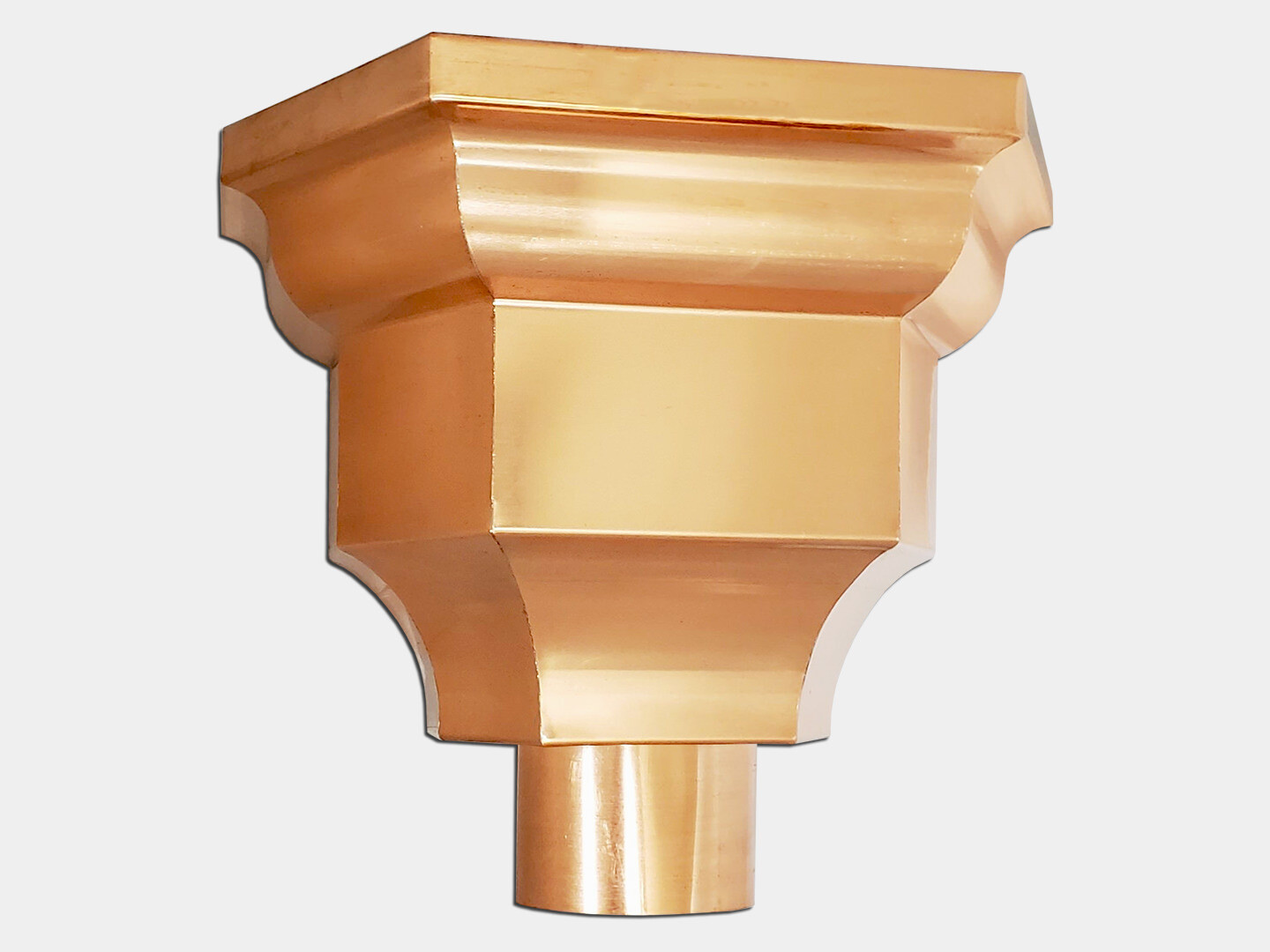 The Excalibur Conductor Head / Leader Head
SKU CHEX
Product Details
The Excalibur Conductor Head
Available in copper, zinc, lead coated copper and stainless steel
The Excalibur is a 5 sided leader head it has a matching profile design as our popular Federal conductor head with a concave swooped base and 'Ogee' style top. The Excalibur pairs well with square and round downspouts. Please contact us for a custom size, color or material, such as pre patina copper, aluminum or freedom gray.
Conductor heads enhance the beauty and architectural style on a building. They are traditionally installed under the soffit to let air into the line which then prevents excess noise (gurgling) and helps stop vacuum lock. They are also used for through wall scuppers and roof drains.
Why is this conductor head not available in aluminum?
This conductor head can be manufactured in aluminum, however, since every side of this item is one individual piece of metal, that makes the need for a lot of rivets when putting this together, which some customer don't like. For this reason, we decided to offer this one as a standard in stainless steel. This way, we can still solder the seams like in copper, but powder coat it to match the standard colors we offer. If you still decide you want it in aluminum, please contact us for a quote.
Specifications
Width: 14"
Depth: 8.25"
Height: 9.5"
Downspout Options
2"x3" & 3"x4"
3" & 4" Round
Submittals & Downloads
Color and Material Options

0.027" Aluminum Colors to Match

The most popular conductor head colors in 0.027" aluminum are Dark Bronze and Low Gloss White
Click here for a full list of 0.027" aluminum colors

Kynar Aluminum and Steel Material Colors to Match

The most popular conductor head colors in Galvanized Steel and Aluminum Kynar® are Bone White and Dark Bronze
Click here for a full list of Kynar® metal colors

Common Material Options for Leader Heads

Copper is the most popular metal for conductor heads. It is offered in 16 oz. and 20 oz.
Freedom Gray (zinc / tin coated copper) is offered in 16 oz. and 20 oz.
Galvalume Plus is offered in 24 gauge.
Lead Coated Copper is offered in 16 oz. and 20 oz.
Zinc is offered in 0.7 mm and 0.8 mm with a raw finish.

Other colors, materials and thickness may be available upon request.
Please click here for a full selection of colors and materials offered.
Save this product for later