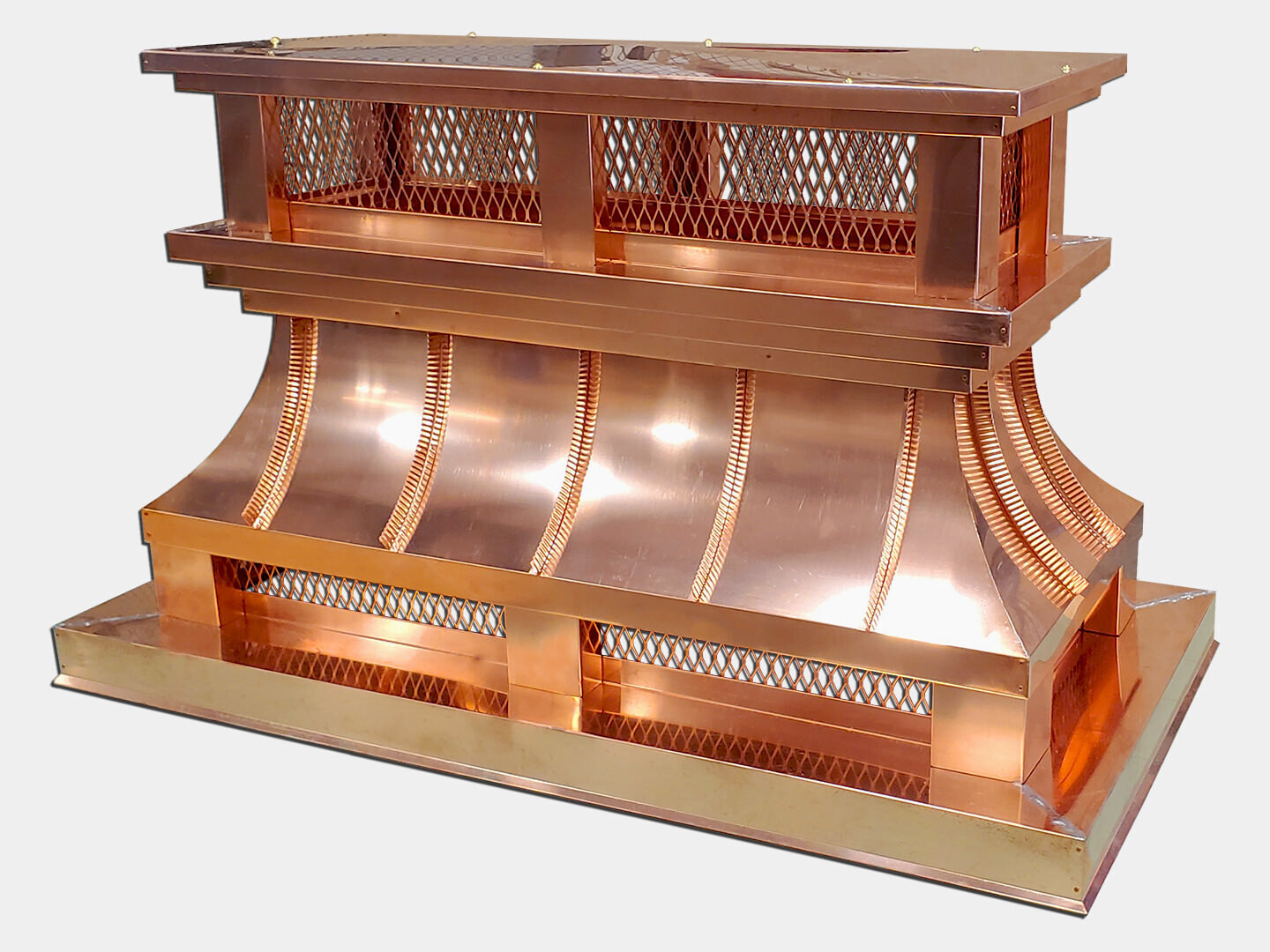 The Royal Chimney Cap / Chimney Shroud
SKU CC107
Product Details
Custom Royal Multi Flue Chimney Cap / Chimney Shroud
Available in Copper, Lead Coated Copper, Freedom Gray, Stainless Steel Aluminum and Steel
This chimney cap, that may also be produced as a shroud (without a roof) features beautiful radius concave standing seam panels.
Its multi flue design allows for installation on larger multi-function chimneys as well as small ones. The screen allows for ventilation while protecting the chimney from small animals.
The roof portion is removable via nuts and bolts for easy cleaning.
All of our chimney caps are laser cut to ensure a perfect fitting.
Custom designs, sizes and different materials may be available. Please contact us for pricing. Made in the USA.
Materials
Copper - 16 oz. and 20 oz.
Freedom Gray® - 16 oz. and 20 oz.
Galvalume - 24 Gauge
Kynar® Aluminum - 0.032"
Kynar® Steel - 24 Gauge
Lead Coated Copper - 16 oz. and 20 oz.
Stainless Steel - 2B 304 24 gauge
Specifications
Base height: 3.5"
Base flange: 6"
Pitch: ~0.25" Standard
Ordering Instructions

A - Please pick the approximate width and length (fields 3 and 4). These fields are used to calculate the price of your chimney cap.
B - Please do not place an order for a chimney cap out of square. Instead, contact us for a quote. A template or sketch may be necessary.
It is also common to order square caps and use shims for installation on out of square chimneys.
C - Requests for an specific amount of seams / width of panels can be accommodated via a custom request for quote. Please do not order via this page if you have such requests as we will leave it up to our craftsmen to manufacture as they best see fit. Panels usually feature decorative seams. These give the appearance of a seam on a solid piece of metal which allows us to manufacture this quicker and offer this cap at such a lower price than our competitors. Adding actual separate panels will add cost.
D - Vertical reinforcements / divisions on the screen are added as deemed necessary by our craftsmen. Please contact us prior to ordering if you have an specific request about this.
E - Although installation is considered simple and straight forward, we recommend that it be done by a professional.
Submittals & Downloads
Color and Material Options

0.032" Kynar® Aluminum and 24 Gauge Galvanized Steel Common Chimney Caps Color Options

The most popular chimney cap colors in Galvanized Steel and Aluminum Kynar® are Bone White and Dark Bronze
Click here for a full list of Kynar® metal colors

Common Material Options for Chimney Caps

Copper is the most popular metal for chimney tops. It is offered in 16 oz. and 20 oz.
Freedom Gray (zinc / tin coated copper) is offered in 16 oz. and 20 oz.
Lead Coated Copper is offered in 16 oz. and 20 oz.
Stainless steel is offered in 24 gauge 304 2B.
Zinc is offered in 0.7 mm and 0.8 mm with a raw finish.
Save this product for later